Hopefully by now, our customers are through the most stressful times. In previous weeks, athletic directors, coaches, and administration were dealing with cancelations, setting up online learning, and working through the communication needed for students and their families. With that largely out of the way, we've seen our customers now have time to refocus their energy on outstanding projects and wish-list items. Below is a brief summary of the most popular projects we've seen in the pipeline over the last few weeks under the Coronavirus quarantine.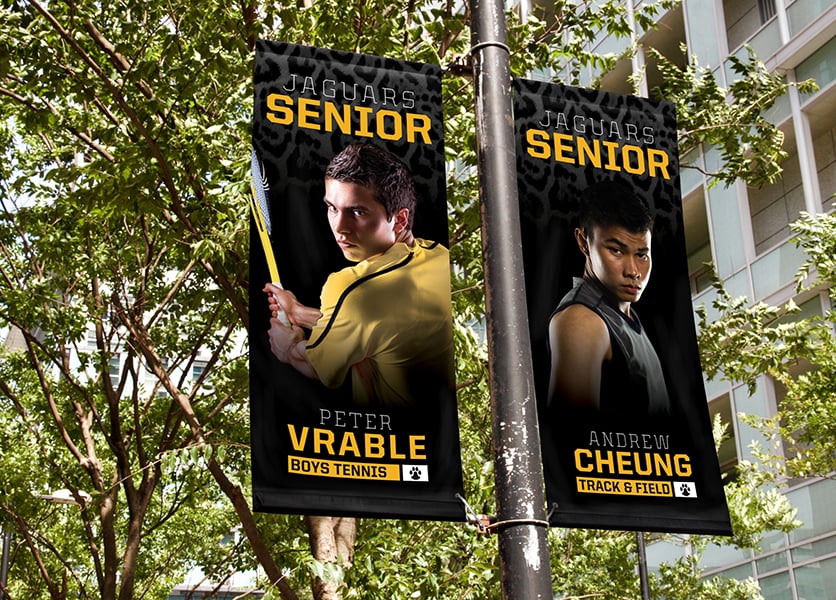 Big Projects
We've seen quite a few larger projects moving through our design queue. We've seen everything from full-program record board projects, to gym banner projects, to gym graphic renovations. Overall, there is a strong feeling that the next school year is going to start on time. As part of that preparation, customers are reaching out with interest in doing big graphic upgrades to WOW the students and faculty when they get back.
Nailing down the data can be one of the most time-consuming aspects of taking on a record board or banner project. Often our customers need to track down coaches, district personnel, or league officials for the information. Now could be a great time to take those projects on. A bit of time spent emailing these individuals will help get the ball rolling by delegating some of the work. We are also able to offer assistance. If you send images of your current banners or record boards, we are happy to have our staff pull the information to get the project moving.
Think through the appearance of your school and athletic facilities. Take note of what graphics are outdated, damaged, or are wish-list items that have never been fulfilled. Small upgrades like new branded, ADA-approved room number signs can make a huge difference. Perhaps your facility has outdated versions of logos or inconsistent team colors spread throughout. Maybe you have bare walls. Let our team draw up custom design concepts that will help breathe new life into your facilities. Email us photos and dimensions of your spaces, and we will return creative ideas and quotes for the projects.
Fall Sports Signage
While many spring-sport coaches have put orders on hold, fall-sport coaches are engaging us to prepare for the upcoming season. One of the most popular products in our queue at the moment are cheer flags and breakaway banners. Locker room graphics are also big right now including custom dry erase boards and motivational signage. Lastly, items to dress up outdoor facilities have also been top of mind, especially fence windscreen and stadium wraps.
Our cheer flags come in multiple sizes. Some clients go with multiple flags to spell out the school name or initials while others go with one extra large flag to fly their mascot. Likewise, our breakaway banners come in a variety of sizes and material options.
Custom dry erase boards are by far the most popular locker room product. Coaches use the custom-design option to create boards to display plays, track goals, record records, and workout schedules. Other requested locker room graphics are motivational in nature. They include team phrases, quotes, or awesome graphics that turn a blank wall into an eye-catching mural.
In stadiums, windscreens are placed around the outside of the stadium, across the top of the bleachers, or along fences to block sight lines for unpaying guests. Windscreen mesh is the most cost-effective material for large spaces and can dramatically transform a stadium.
To get a design started, send us your logo, team colors, and describe what you picture. Our design team can then use their experience to create custom designs for your program.
Senior Signage
Everyone feels for the seniors who don't get the classic end to their year. While we cannot bring back prom, spring sports, or a traditional graduation, we have had creative clients come up with special ways to recognize their seniors.
Many communities are installing custom light-pole banners to recognize the graduates. We can work with your local community to determine the dimensions of existing banner brackets to ensure an exact fit. If your community does not have existing brackets, we can quick ship those as well. Some schools have organized for senior families to pay for their own banners while other communities are picking up the costs. Either way, this is a great way to pull the community together and show support for the 2020 seniors.
Yard signs or a huge banner on the outside of the school are also creative ways to recognize these student athletes. Many schools are built along a high-traffic road, so hundreds of yard signs out front recognizing each student along with a huge Good Luck! banner hung on the school building will be noticed and appreciated.
We have these, and other creative ideas to show appreciation for those kids at a relatively low cost per student. If interested, simply email us your school logo, colors, and some ideas, and we will come up with a custom solution.
If you have creative ideas that you would love to see at your school or facility, reach out to us. Our entire staff has been working from home through the quarantine. We are very proud of our staff and the work we've done during this time and we look forward to working with you. Thank you to all current and potential customers that are carrying us through this!