There might be snow on the track, weeds in the softball field, and leaves covering the tennis courts, but spring sports season is coming. In a few short weeks, athletes will be out of the gym and into the sun. There are a million of things that need to get done before the spring season can get started. Below are our most popular products to dress up and make your spring sport facilities look its best.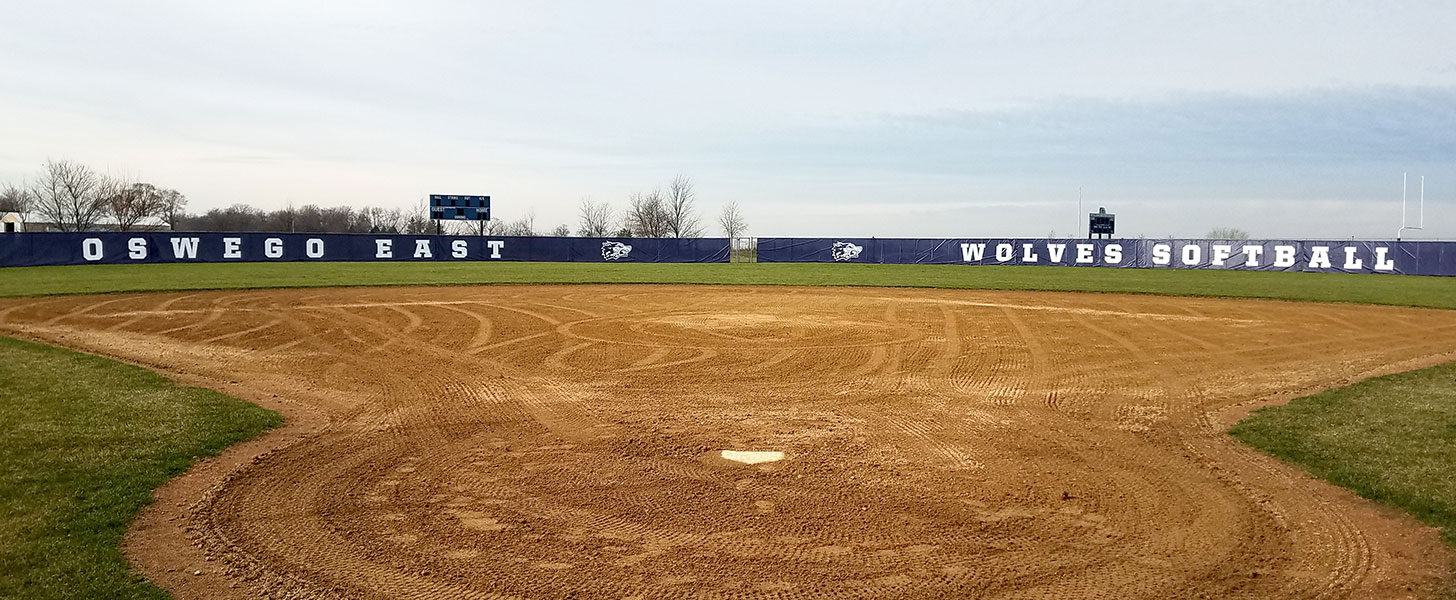 Custom Windscreen Mesh
Chances are your track, baseball fields, softball fields, tennis courts, and lacrosse fields are surrounded by fencing. Custom windscreens are the perfect product to dress up this unused and visually unappealing space. For track and field, windscreens can be used to surround the facility to create a home-field stadium versus a wide-open space. School names and mascots can be displayed along the straightaways while the curves might be reserved for sponsors or conference recognition. For baseball and softball, stadiums the outfield fence is the perfect opportunity to brand the field and make it a stadium. We are experienced and know to keep centerfield as a dark batter's eye and will keep the designs towards the foul lines and power alleys. Around tennis courts, windscreens provide a much-needed windbreak. In addition to the windbreak, a great looking custom design or graphic will make your tennis courts stand out.
Custom windscreens can be used within the facilities as mentioned above or on existing fencing around the facilities. Often, chain link fence is used to surround the campus and is street-facing. Use this space to brand your school, keep out unpaying spectators, and get the professional campus look. We have the experience to come up with a great looking design that compliments the surroundings instead of making the entire fence line a gaudy advertisement.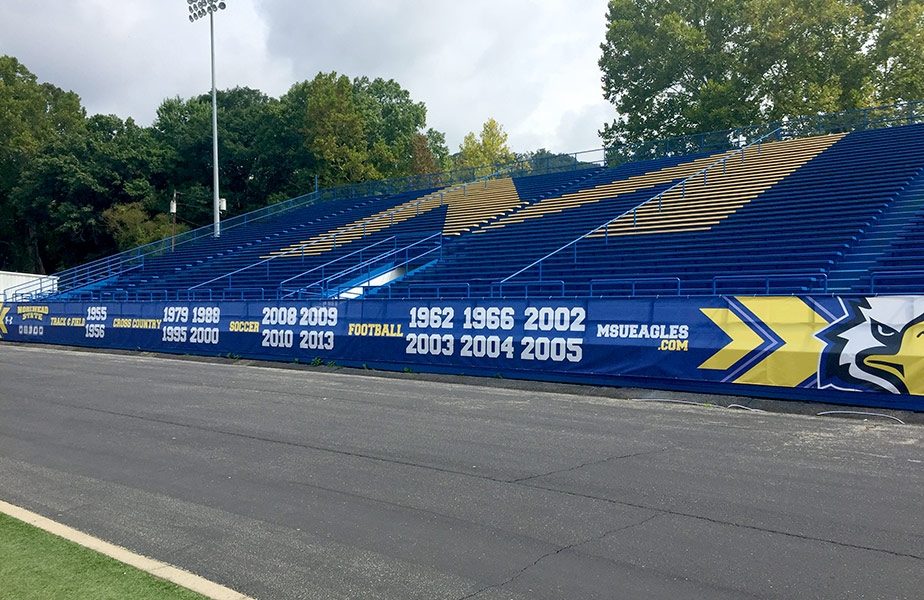 Championship Signage
In addition to fencing surrounding your facilities, there are many structures that can be used to display championship signage. We love to use existing structures and surfaces to add great graphics that recognize accomplishments. Outdoor aluminum championship signs are a great way to use large surfaces with great sightlines. The most common championship signage we produce for our customers include state championship signs, add-a-year conference championship signs, and add-a-name boards to display all-conference or other outstanding individuals.
One great quality about going with the aluminum championship signage is that it can be custom routed. This means that we can produce great-looking pieces in the shape of the state, the logo of the team, or the specific sport ball. These signs can also be easily installed on fences, dugouts, press boxes, restrooms, or other structures.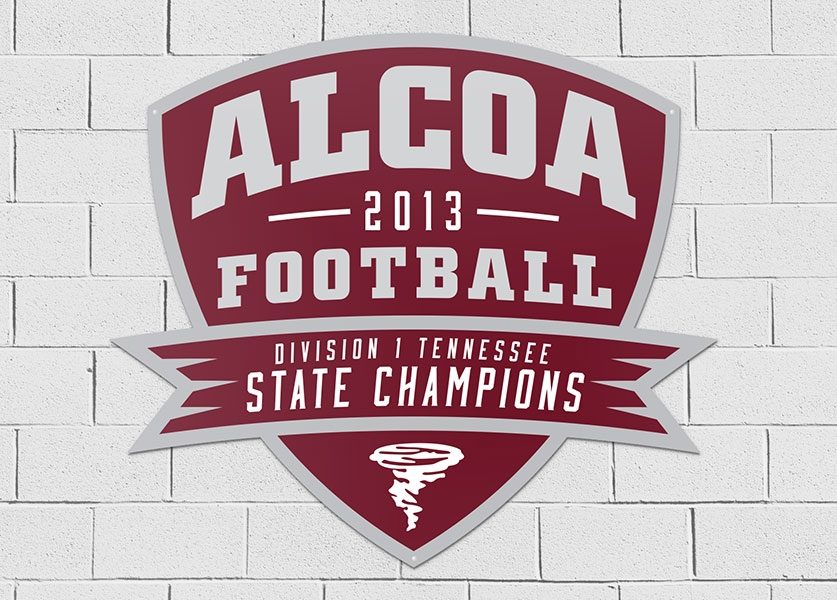 Athletic Record Boards
Track and Field is the sport that requests record boards most often. Most schools have their own track which provides an awesome facility to display all the track and field records. The most common size boards we produce for clients are 8'x4' or less for boards going in locations that fans can easily approach and read, or we produce much larger boards at 10'x10' and larger. The largest record boards are designed to be installed on the side of buildings or other existing structures and be read from across the track.
Each state has different events, but we can design the perfect board to display your boys' and girls' records including track events as well as the field events. Some clients choose to display their cross-country records on the board as well. Many programs have indoor and outdoor track teams and we offer designs if you want to display both sets of records. For some of our collegiate clients, we develop designs that show the school records as well as the track records and sometimes the conference records.
No matter what your needs are, we can work with you to develop a record board that fits your program. In addition, to track and field we have a wide variety of baseball, softball, tennis, and lacrosse record boards as well.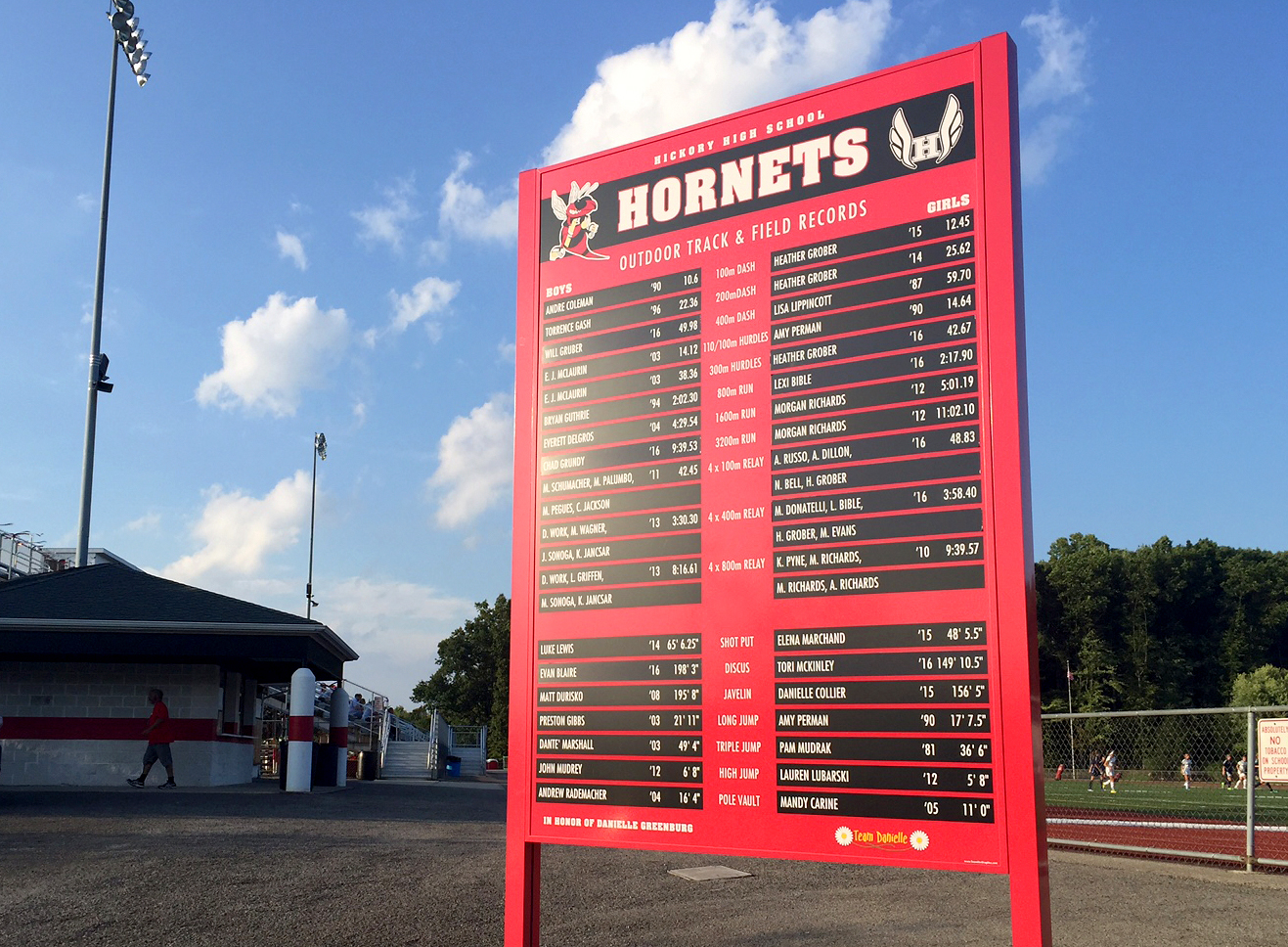 Wayfinding Signs
Some of the best signage is the functional signage that gets people pointed in the right direction. We always recommend that clients take a walk around their facilities. Is it clear where visitors should park? Where are the ballfields? Where do the home and visitor parents sit? Most importantly, where are the concessions stand and restrooms?
If the facilities don't answer all the questions, then the staff is going to get the same questions at every event. To fix that issue, we offer a variety of signage options to address these flow issues. Our most popular wayfinding signs are freestanding post and panels signs. These are great because they are easily installed into the ground and can help create that campus look. Other popular signs can be installed on existing structures to identify areas or to have arrows pointing fans in the right direction.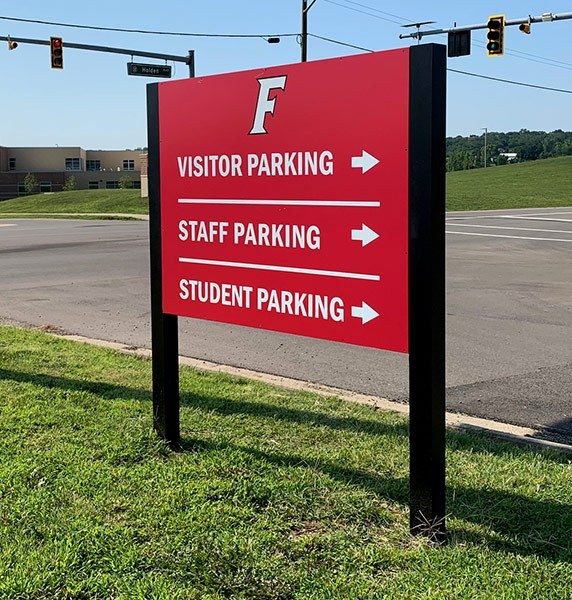 We encourage everyone who has a team or manages facilities to take the time in late winter to review their spring sports facilities. Do the facilities convey the same pride that the athletes have? Are the facilities clearly marked for any visitors who have never been there? Have the accomplishments and history of the program been properly recognized? If the answer is no to any of these questions, we encourage you to reach out today. One of our reps would be happy to answer questions and provide you with a free design mockup and quote to consider.