Motivating athletes is one of the most challenging aspects of a coach's job. In an ideal world, students would arrive to the weight room each day pumped up and ready to perform. Reality is often different. It falls on the coaching staff and team leaders to provide excitement and encouragement to get the most from their team.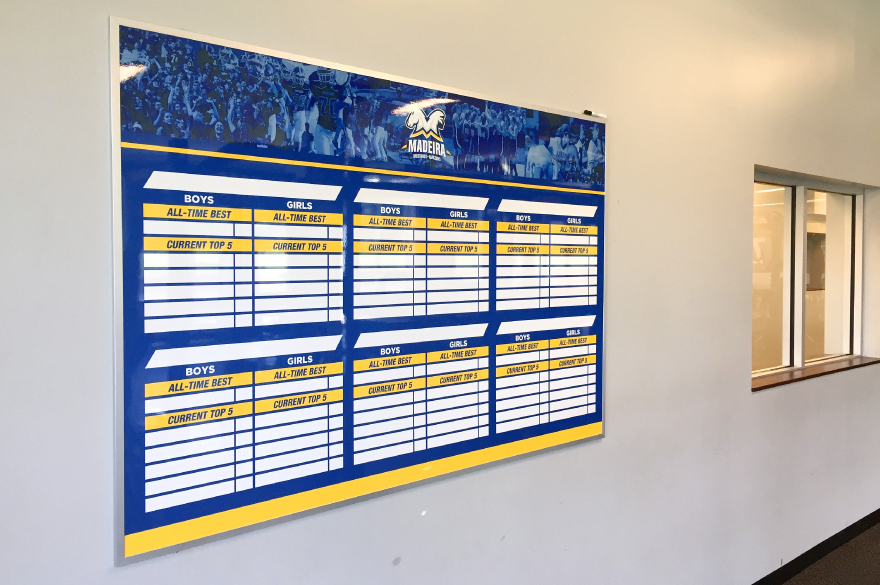 There are many things that coaches can do to motivate and promote a positive culture in the weight room, but one of the easiest ways to get things moving in the right direction is to start with a little friendly competition. A weight room record board, like the one we recently built for Madeira High School, offers an opportunity to do just that.
In addition to honoring those at the top, a weight room record board shows everyone exactly where they stand. More importantly, it shows them exactly what they need to achieve to claim a top spot.
CUSTOM DESIGNED BOARDS
Every program has different needs. As a result, no two strength record boards are exactly the same. Your Team Fitz sales rep and design team, will be happy to work with you to build a record board that is perfect for your weight room.
We worked with the Madeira coaching staff to create the perfect design for their record board. There was a desire to include athlete and team pictures to help capture some of the emotions commonly felt on the field and court. A mural of images was designed in tones of Madeira's branded blue. This monochromatic look helps keep focus on the team rather than any one particular individual.
For the body of the board, we included one all-time record and the top-five current records for both boys and girls. A total of six exercises fit nicely on the 4' x 6' dry erase board. Rather than printing the exercise names in the design, open fields were left allowing space for them to be written. This approach allows more flexibility as needs and seasons change.
GUARANTEED FOR LIFE
Quality and longevity is an important consideration for Madeira as it is for all our customers. All Team Fitz dry erase boards come complete with a lifetime guarantee against ghosting, fading, and any kind of defect in the materials and construction. If there is ever an issue, we'll replace it.
Could you use a little help getting the team motivated to crush goals in the weight room? Reach out to us today. Our team would be happy to get started on a custom record board proposal.