With fall in full swing, basketball season is right around the corner. As coaches prep for the upcoming season, there is typically a spike in interest in custom basketball dry erase boards as well as general signage for the locker room. Like any custom designed product, there are a lot of options to consider and questions that arise. Here are some of the most frequently asked questions we hear from our customers about basketball dry erase boards.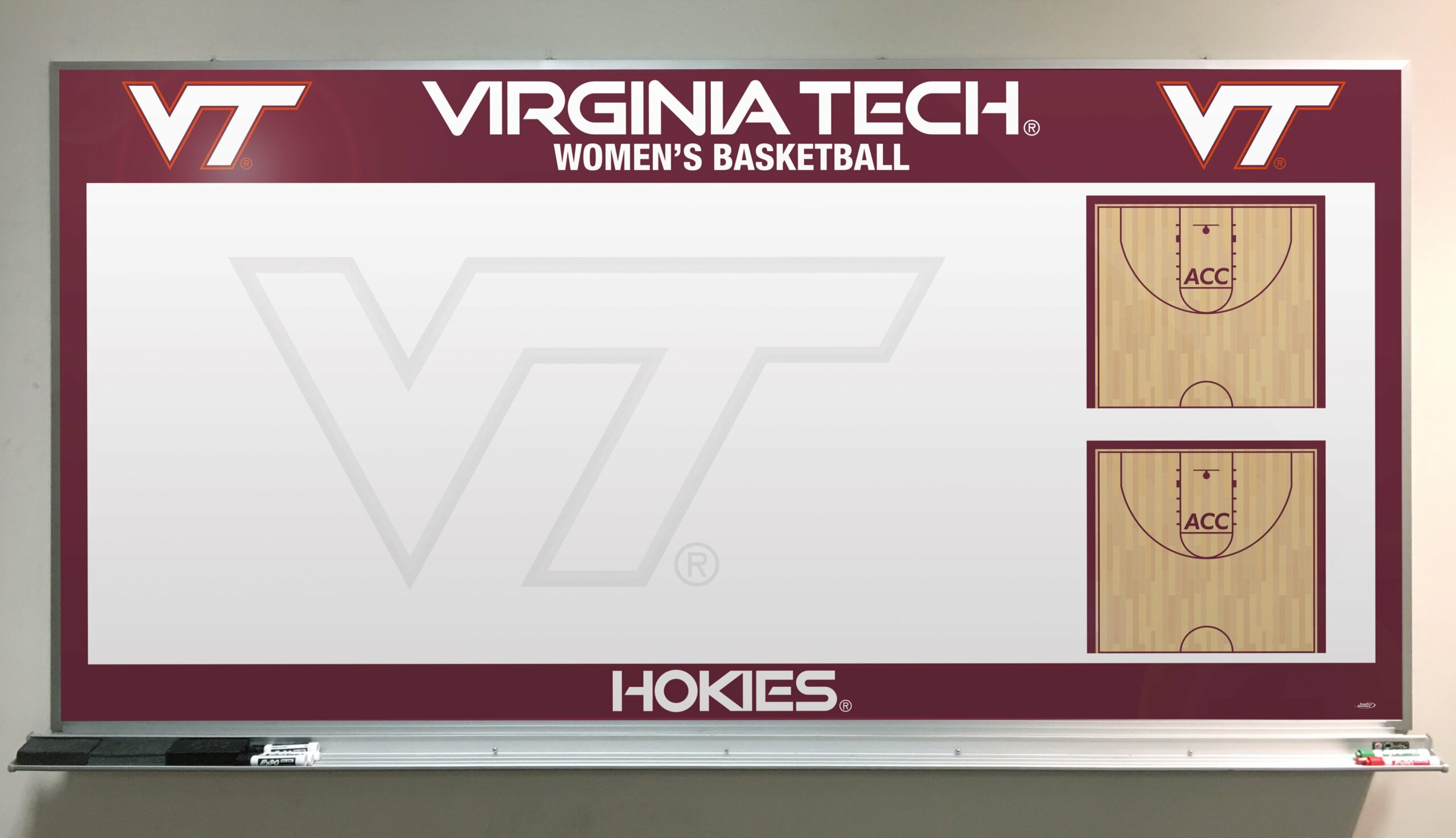 WHAT IS THE DIFFERENCE BETWEEN A BASKETBALL COURT BOARD AND A BASKETBALL GOAL BOARD?
Every Team Fitz dry erase board is completely custom and can be designed to suit your needs. That being said, we have two different styles of dry erase boards that basketball coaches typically request. A court dry erase board usually features one or more full or half court renderings and often has room to write.
A basketball goal board is usually designed with a grid that includes team goals running top to bottom and the schedule of opponents left to right. Goal and opponents are printed on remove-able static cling or magnetic material. This way your board remains flexible from season to season as your goals and schedule change.
CAN YOU CUSTOMIZE THE DESIGN TO LOOK LIKE THE COURT IN MY GYM?
Absolutely! Many of our customers like to have the court diagram on their dry erase board match the court in their gym. We can match colors, logo, and fonts. We have even added sponsors to the floor. Having these details incorporated into the design not only looks more realistic, it can also help communicate to players exactly where you want them to be. All we need is an image of your court and our designers will do the rest.
WHAT SIZE BASKETBALL DRY ERASE BOARDS TO YOU OFFER?
The most common sizes are 4'x4', 6'x4' and 8'x4'. The most popular size is 6'x4' which usually allows for a full-court diagram on the left and two half-court diagrams on the right. The middle is a great space for listing matchups, reminders, and game plans. The largest board we offer without a seam is 12'x4'.
IS THERE A WARRANTY ON YOUR DRY ERASE BOARDS?
Every dry erase board Team Fitz offers carries a lifetime guarantee against ghosting, fading, or defects in materials or workmanship. It will not only remain bright white after years of use, our high-gloss surface eliminates the staining you see on other whiteboards. In short, you'll never have to worry about replacing your board because it faded or ghosted—guaranteed!
HOW QUICKLY CAN YOU DELIVER A BASKETBALL DRY ERASE BOARD?
It typically only takes a couple days to receive a first design proof. Once the design is approved, boards generally ship out within 10 – 15 business days. We can work with you to figure out a timeline that works if you need it faster than that.
HOW DO YOU ATTACH ONE OF THESE DRY ERASE BOARDS TO A WALL?
Team Fitz dry erase boards are mounted with a bracket system that runs along the top and bottom of the boards. These brackets are simply attached to the wall with screws and anchors. For more detailed instructions be sure to visit our installation instructions webpage by clicking here. If available wall space is a concern, we do offer a mobile dry erase board option that is easily moved and stored out of the way.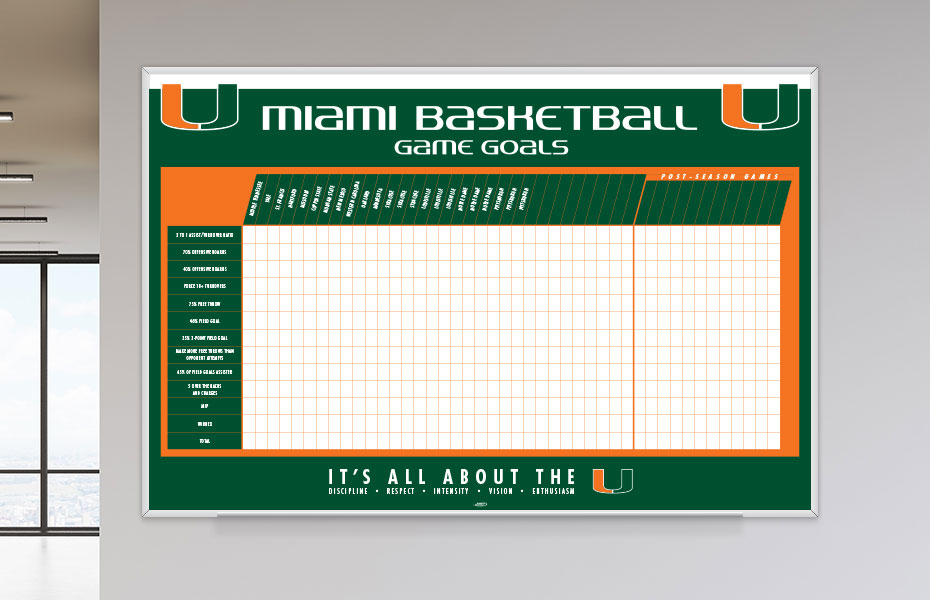 Now that you know more, are you interested in getting a custom basketball dry erase board for your locker room? Reach out to a Team Fitz rep today to get the conversation started. Our professional staff will answer any further questions and provide you with a free custom proof and quote for the project