While an entire facility renovation may be out of the budget, upgrading with some well-placed graphics could greatly improve the visual impact of your school. Below are three of the most common signs your athletic facilities could use a graphics upgrade.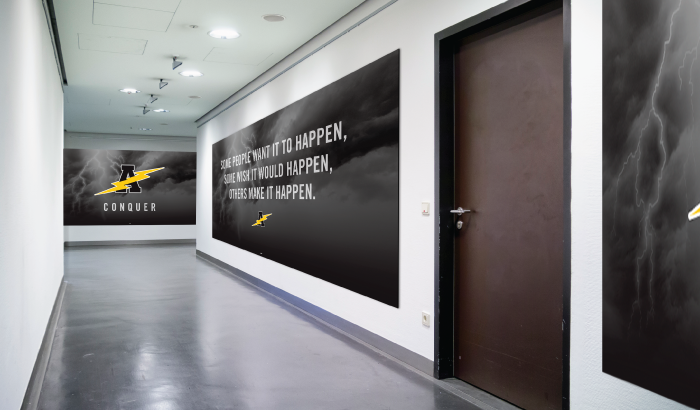 1.  Your School's Branding Has Changed Or Is Inconsistent
Proper branding is just as important to schools as it is in the business world. Branding has the power to create an emotional connection for students, faculty and fans. This sense of pride and camaraderie builds community and provides a good first impression for parents and coaches considering a move to the district.
While a great idea, a full rebrand from a marketing or branding firm is not realistic for many schools. They can be both cost prohibitive and time consuming to take on. Fortunately, there are small steps you can take to develop and maintain a brand within your school.
The key component to branding is consistency. When you take a walk around many schools, you often see a haphazard mix of logos, mismatched shades the same color, and conflicting design styles across gym banners, facility signs and other graphics. This inconsistency typically occurs over a period of years as coaches and staff make various sign or graphics purchases without clear brand guidelines to follow.
To combat this, start by standardizing your logo and colors for the entire athletics department. Select one logo and set of colors and make sure your staff understands that these are what should be used on all graphics projects moving forward. Transparency will get buy-in from your staff and help prevent future inconsistencies. This also ensures a professional look is achieved over a longer period of time for your school.
There are many ways Team Fitz can help with this process in addition to designing with your new brand in mind. For example, we will provide you with PMS color codes for your standard colors (i.e. Scarlet = PMS 200). PMS color codes can then be provided to future vendors to ensure accurate color matches. For more on school branding, check out our article on easy steps schools can take to improve their brand.
2.  Your Athletic Program's Messaging is Outdated 
Dated messaging often goes hand in hand with the brand inconsistency, but it goes further than simply the look of your graphics. Every athletic director and coach has a specific message they want to convey to their athletes. It may be about motivation, achievement, strength of character or other characteristics they are trying to instill.
Graphics can go a long way to helping you communicate the things that are most important to you. Motivational signs and large format facility graphics are effective vehicles for supporting that messaging effort even when your coaches are not physically in the room. By including the same messaging in your visual graphics, you back up what you verbally communicate. This can be an effective way to build a culture around that message and the values it expresses.
3.  Your Athlete's Hard-earned Achievements are Under Recognized
Another good sign it is time for a graphics upgrade is when your program's achievements are poorly recognized. We regularly hear from customers that they have a strong athletic history, but don't have anything that properly honors those athletes and achievements. Recognizing past wins highlights the hard work of your teams, honors your athletic legacy and can even help to motivate.
There are many effective ways to recognize past victories. The most common way to show off individual athletes are with die-cut retired jerseys. These iconic signs can be easily displayed indoors or outdoors.
Another way to recognize individual athletes is with an add-a-name board. Add-a-name boards can focus on any type of win and are simply updated as new achievements occur. The most common add-a-name boards highlight individual state qualifiers or placers, all-state athletes and all-Americans.
Finally, a picture board can be an effective way to recognize all your teams. Team photos are simply pulled out of the frames and replaced as your teams change each year. Picture boards can also be used effectively to recognize individuals for on-the-field or academic achievements.
If you are experiencing any of these signs of a needed upgrade, give our team a call. Team Fitz works exclusively with school athletic programs, helping them to look their best every day.