A stadium scoreboard does more than just let sports fans know the score. With advancements in technology, today's scoreboards bring vital elements to the fan experience, no matter the sport. The following benefits highlight a stadium scoreboard's importance at a sporting event.
Increase the Game-time Experience
A stadium scoreboard allows sports fans to have a richer experience at sporting events. Broadcasting players' statistics, game scores, and other instant information increases the game-time experience. These solutions give fans more reason to interact and invest in the game.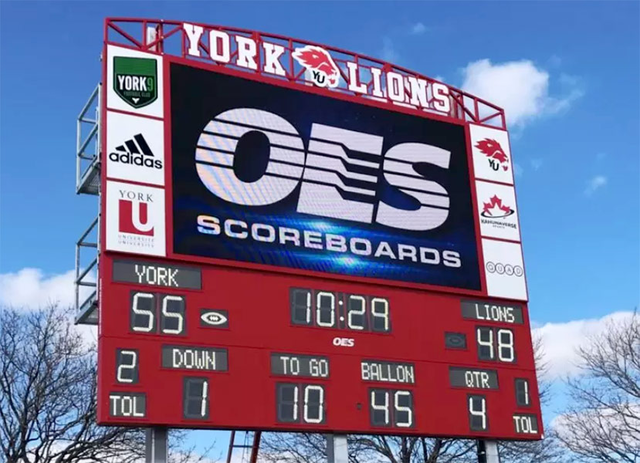 Advertisement and Commercial Messages
Stadium scoreboards are the perfect way to advertise your team sponsors and display commercial messages. Many businesses find stadium scoreboard advertisements an easy way to break into the sports industry as they offer high visibility. Keep in mind the advertising options include both billboard ads that attach directly to scoreboard and electronic advertisements displayed on LED video boards. Electronic ads can be either static or video and can be changed at a moment's notice. This can help bring in revenue to a team or athletic organization.
Announcements Made Easy
A large scoreboard makes it easy to broadcast announcements to your fanbase. Whether the team wants to celebrate a notable event or announce that a portion of the game's revenue is going to a charity, electronic scoreboards offer an effective way for an athletic program to get the message out.
Motivate Athletes and Build Morale
A bright new stadium scoreboard does wonders for a team's morale. A vivid LED scoreboard with scrolling messages, powerful lights, or a colorful video board will make them look and feel professional. This translates into pride in their team. When players know they have support, it can boost their confidence significantly. Ample support also may encourage them to play harder.
Appeal to the Fans
Stadium scoreboards can appeal to the fans just as much as the team. In addition to making the stadium more aesthetically pleasing for the fans, a high-quality scoreboard keeps them informed. Fans rely on the scoreboard to quickly give them the information they're looking for including the score, key game statistics, player stats, as well as news related to the program. Access to this data translates into higher fan engagement during your games.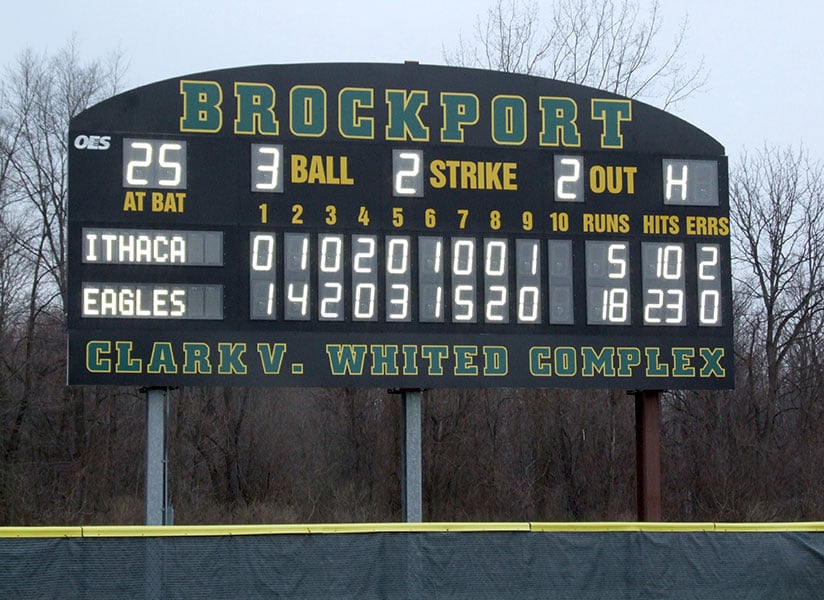 Keep Everyone Entertained
With a generous stadium scoreboard or video board, everyone will find entertainment. Their flexibility makes them a popular amusement at sporting events. From kiss cams, to sending message marquees to loved ones, to mascot races, anyone can get entertainment out of a stadium scoreboard with video features. While not the main reason for upgrading your school scoreboard, these touches to ball games keeps fans entertained and coming back.
Intimidate the Away Team
A beautiful new electronic scoreboard makes home teams look like a threat to the opposing team. Away teams will feel intimidated knowing the home team has the professionalism, skill, and support to win.
LED Displays for Every Budget
Scoreboard technology has come a long way over the years. There are many custom options available on the market. To simplify, here are the two main categories you will encounter:
Professional and Eye-Catching Video Boards
A professional LED video board makes an eye-catching addition to a school stadium or athletic venue. The captivating viewing experience of LED Video Display adds a new level of enthusiasm to games and draws everyone watching into the action. Ignite your crowd with cheer prompts, scores, and stats on a full screen or split the screen and integrate animations, exciting replays, and sponsor advertising.
Today's video displays offer brighter LEDs, display dazzling color, and offer amazing visibility from all angles. Both dynamic and versatile, a video board has the power to elevate fan experience and professionalize a facility.
Traditional Digital LED Scoreboards
Whether you're looking for a compact scoreboard to display key stats or a massive top-of-the-line scoreboard with room for electronic player names, advertisements, and architectural trusses; a traditional digital scoreboard is flexible. This easily recognizable stadium fixture can be custom designed to suit any facility and budget.
Team Fitz Graphics is Proud to Offer OES Scoreboards
OES Scoreboards has a long history of partnering with athletic programs across North America to bring pro sports facility experience to their venues. They are renowned for exceptional customer service, talented in-house engineers, and expertise in providing high-quality, scalable, custom video displays, scoreboards, and timing solutions for Pro sports venues, colleges, K-12 schools, and community centers.
Team Fitz Graphics can provide a custom OES stadium scoreboard for all sports from soccer to softball and at all experience levels. Whether you need a youth football scoreboard or a professional video board, we'll design and construct a scoreboard that fits your needs. Reach out today for a free custom quote.