Rock Hill High School of Rock Hill, South Carolina, recently reached out to us to update their athletic hall of fame signage. In addition to hall of fame inductees, it was important to Bill Warren, Athletic Director, to include other athletic honors such as the "Bearcat Service Award," "Role of Honor" and retired jerseys. The board was titled "Rock Hill Traditions" to illustrate this overarching theme.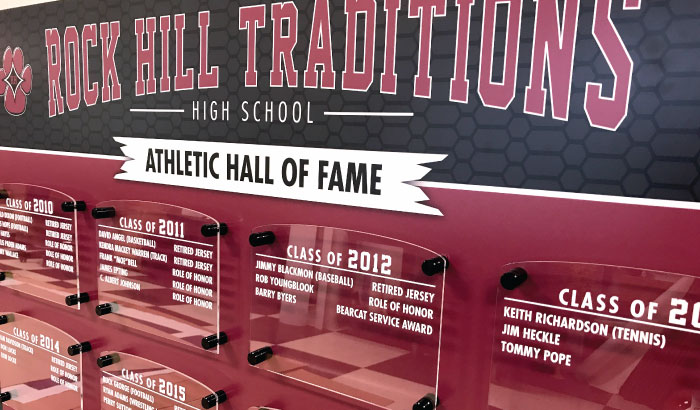 While there are a few different ways this type of board can be designed, the most common way is an add-a-name style board. Add-A-Name Boards are perfect for content that contains a running list of athletes / accomplishments that needs to be added to, rather than replaced, over time. This style board suited the Rock Hill project because they are not only honoring past accomplishments, they will need to add to the board each year as future honors are bestowed.
Where this project differs from a standard Add-A-Name Board is that the names and accomplishments are displayed on clear acrylic plaques that "float" in front of the background using Standoff hardware. The plaques are divided by class and contain a list of each award granted that year. This plaque-mounted approach was taken to offer a high-end look reflecting the stature of the high honors displayed.
Bringing Together the Hall of Fame
The construction of this board started with a quarter inch PVC base layer. Aluminum is another option available, but it was determined aluminum was not necessary because the board would be displayed indoors alongside the trophy cases. The next step was to digitally print the custom-designed graphics and apply them to the surface of the board. A layer of laminate was added to protect the finish from abrasion and harmful UV light, and to provide an anti-glare finish.
Custom plaques laser cut from clear acrylic were then produced. Each plaque was designed to include an arched top adding visual interest. These plaques were attached the background panel using a Standoff hardware system. Each custom Standoff system offers a wide array of options including size, depth and color options.
When installed, this hardware suspends each plaque off the surface of the board creating an attractive layered effect. Finally, cut-vinyl lettering in a matte finish was applied to the surface of each plaque finishing the project.
Keeping the Brand Consistent
The "Rock Hill Traditions" board was part of a larger graphics project including fabric add-a-year gym banners and a dry erase strength record board. Despite the fact that these products are very different from each other, great measures were taken in the design phase to ensure a cohesive look was developed throughout. Consistency in athletic facility graphics and products will help promote a strong, united brand.
In addition to the plaque-mounted board described above, other options are available for hall of fame recognition. Team Fitz Graphics offers a variety of choices including Add-A-Name Boards and Picture Boards. Give us a call today for more info and to discuss the options for your school's hall of fame.