Uncertainty surrounding the COVID-19 virus has left schools nationwide unsure about the future. Questions about when and how to return to school safely are top of mind for school administrators. The only certainty is that social distancing is going to be crucial when classes do resume.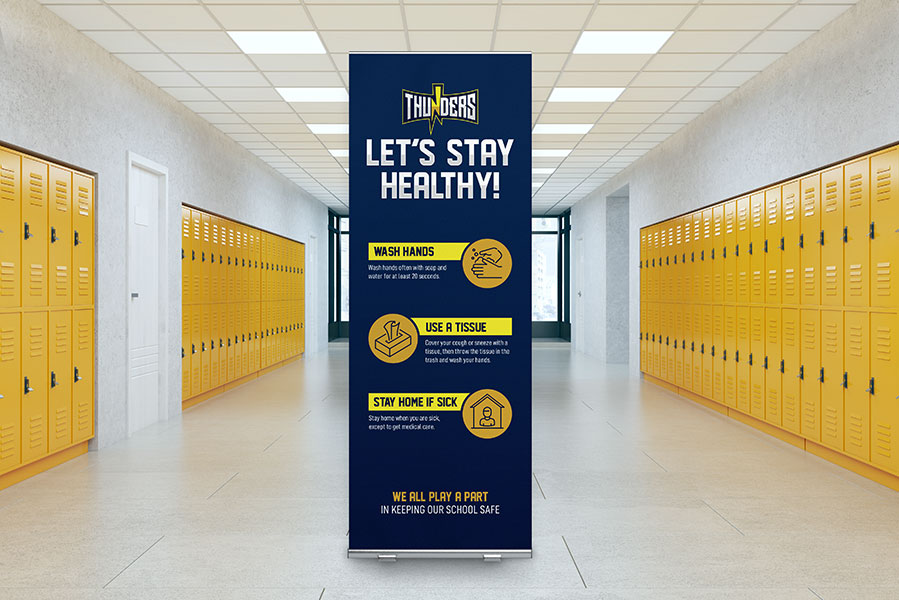 As school buildings reopen, changes are going to be made to not only ensure safety, but also to comply with state and local guidelines. Custom signage can be an effective way to communicate these changes to students, staff, visitors, and worried parents. Let people know where to enter and exit, mask or check-in requirements, CDC recommended guidance on hand washing, social distancing reminders, or other key information.
Social Distancing Signage can be branded with your school colors and logo. Additionally, consider personalizing the message to create a point of pride for students and faculty. Labels such as "The Wildcat Way", "Jefferson Community Plan", or "Help Keep Our Mustangs Safe" can help bring home the message that you're in this together as a school community.
While custom signage to hang on the walls is obvious, here are some additional school signage options that you may not have considered.
FLOOR DECALS
In a familiar situation and place it's easy to fall back into old habits. Floor decals placed throughout the school can be a fantastic reminder to social distance. Consider areas where people are most likely to congregate or be in close contact such as hallways, bathrooms, the cafeteria, and the library are good places to start. The main office and any other place where lines will form are key areas to indicate where to stand.
Another factor could be traffic flow. Use arrows on the floor to show the direction of traffic and which side of the hallway they should be standing on to go which direction. Too often students are zig zagging across and in front of one another between classes, providing guidance could help them separate during these high-traffic times.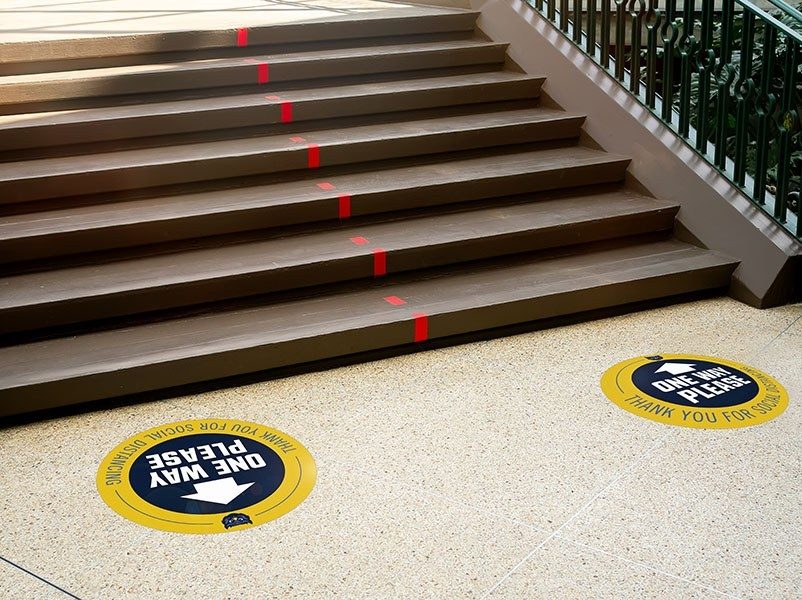 WINDOW GRAPHICS
Posted on every school entrance should be a reminder of the current school guidelines regarding the coronavirus. Proper social distancing rules, hygiene, and visitor rules should be posted and enforced to ensure the safety of students and faculty.
Smaller window graphics can be displayed on bathroom mirrors as a constant reminder to follow CDC guidelines for proper hand washing. To help reinforce the message, consider personalization such as recommending the school fight song or pledge of allegiance as the proper length of time.
RETRACTABLE BANNERS
A retractable banner placed in the middle of your lobby or school entrance cannot be missed. If you have to walk around it, odds are you are going to read it. While great for listing social distancing rules, they are also perfect for way finding, new changes to policy, or to indicate where lines should start forming.
Retractable banners are easily stored, set up and taken down for easy transportation. They are freestanding and don't require any installation, so they are a perfect solution for semi-temporary messaging where permanent installation is unnecessary or impractical.
A-FRAME SIGNS
Like retractable banners, A-Frame Signs are easy to move and store when not in use. These are most often used outdoors but can also be used inside. A-Frame Signs are good for way finding, highlighting the correct entrance to use, or relaying critical safety information. Many registrations are going to be held outdoors, rather than in the school. Traffic flow will be important to help these events run smoothly.
The aluminum sign inserts can easily be swapped out as needs evolve. Additionally, magnetic arrows can be included if traffic patterns need to change throughout the year or from event to event.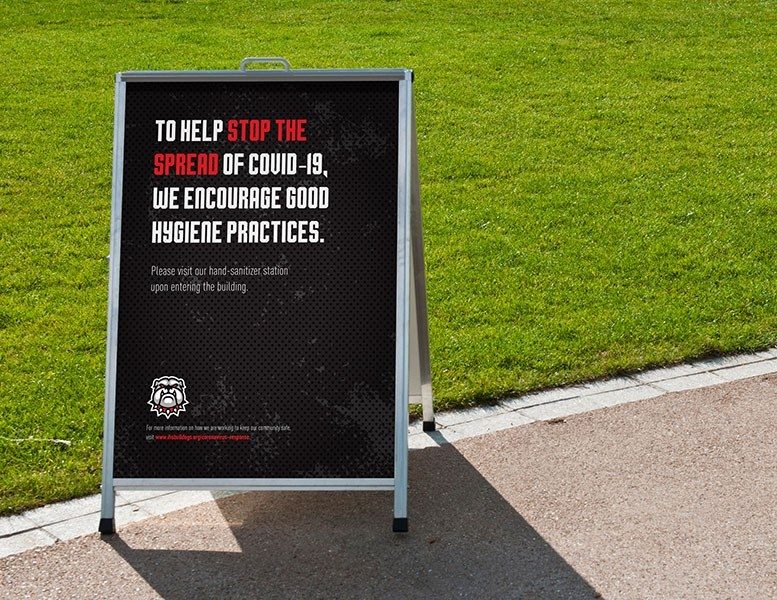 Whatever your school district's plan may be, communication is going to be key to a successful return to school. Clear guidelines posted in key locations will be paramount in providing a safe environment for teachers, students, and visitors.
Ready to start planning for the upcoming school year? Reach out to a Team Fitz sales rep today. They would be happy to answer questions as well as help develop a plan to execute your vision.