In-conference play brings the thrill of long-standing rivalries that are rich with program history. Legendary match-ups of the past fuel electrifying season storylines and fierce battles for conference championships.
Visit high school or college gyms anywhere in the country and you'll find the names and logos of their league members. While banners are commonly used to display these teams, die-cut signs are another popular way to show conference pride.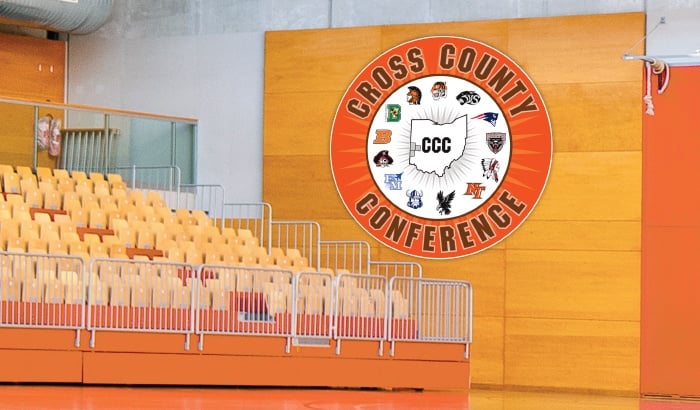 A die-cut conference sign is a rigid replacement for the standard conference banners found in typical high school and college gyms. It's essentially an oversized sign that has been cut to a custom shape. The most common shape requested by customers is a circle, but they can be cut to any shape including the shape of a state or custom sized for a specific space.
One of the main benefits of a die-cut conference board, over many traditional league banners, is that it offers a clean look. Rather than inviting a circus of rival colors into your gym, the design of this conference display puts the focus back on your school. Your team colors, fonts and style are used to ensure your team identity is on display, complimenting your gymnasium rather than clashing with it.
The standard base material used for these boards is a sturdy quarter-inch-thick PVC plastic. Aluminum is also available if an outdoor solution is required. Next, digitally printed vinyl graphics are applied featuring a vibrant and crisp full-color design. A protective laminate is then applied to block out UV light, preventing color fade and offering an anti-glare matte finish.
Conference members change periodically and this die-cut conference board can be easily updated as necessary. Each member logo is printed on a separate panel attached to the face of the board with an industrial-strength Velcro mounting system. If a league member changes down the road, simply give us a call and we can send a new panel with your new member's logo. This unique feature ensures your conference board is a reliable, long-term investment.
In addition to die-cut conference boards, Team Fitz also offers traditional fabric and vinyl conference banners. Reach out to a sales representative for more information. We would be happy to get started on a custom design and quote for your project.